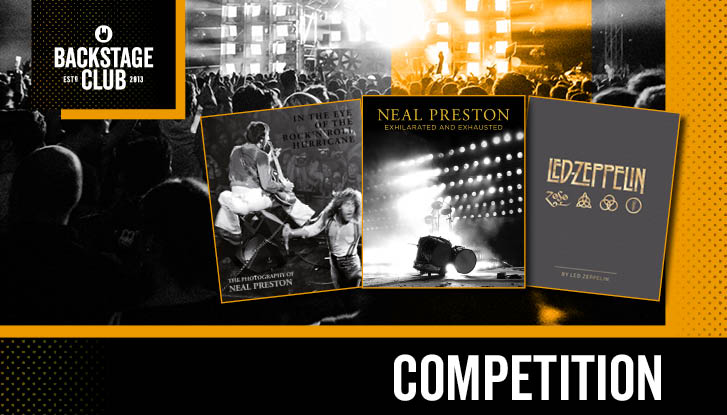 Win 1 of 3 Neal Preston book packages!
Closing date: 21.06.2020
Neal Preston - without a doubt, one of the greatest, if not THE greatest music photographer of the 20th century!
He captured all of the greats: Led Zeppelin, Frank Zappa, The Rolling Stones, Bob Dylan, Queen and countless more. You might recognise the famous photo of Freddie Mercury, in which he leans back with a microphone, the crowds of Wembley Stadium behind him, which was used as the background for the poster for the film Bohemian Rhapsody - one of the works of Neal Preston.
Neal Preston's photos can be currently be seen in an exhibition by the Lightpower Collection as large format fine art prints. Lightpower is an internationally established distribution company for stage and studio lighting. The Lightpower Collection has emerged from a corporate culture that has grown over many years. It consists of photographs and original album cover artwork by many of the greatest photographers and artists.
With over 70 works, Neal Preston's rock'n'roll photography is the centerpiece of this collection. Preston's archive is one of the most extensive in the world and includes all of the most important artists in rock history. The photos show breathtaking moments on stage and intimate insights into the crazy world of rock music and its protagonists!
Right now, the Backstage Club is giving you the chance to win 1 of 3 photo book packages.
Each package consists of:
1x Exhilarated and Exhausted
A comprehensive autobiography with countless photos and stories from Preston's eventful 40-year career
1x In The Eye Of The Rock'n'Roll Hurricane
Almost all of Preston's photographs in the Lightpower Collection with many stories, told by Neal Preston himself and his companions
1x Led Zeppelin by Led Zeppelin
The only official photo book for the 50th anniversary of one of the greatest rock bands of all time - of course it wouldn't be complete without Neal Preston's photos!
Answer our competition question and with a bit of luck, one of the three packages could be yours.
Fingers crossed
Your EMP Backstage Club Crew
The winners
Kai S., Alfter

Annalena T., Buseck

Dora D., Stuttgart
Our recommendation for you