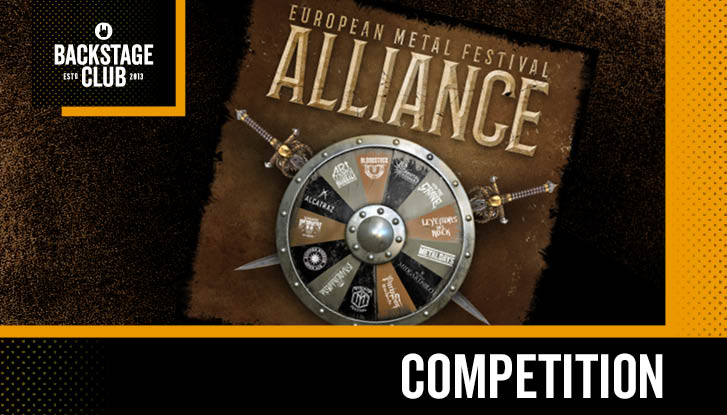 Win 3x2 tickets for an EMFA festival of your choice
Closing date: 26.09.2020
Unfortunately, the summer festival season this year was a no-show due to the pandemic. ...but that's no reason to be depressed. The organisers of 13 independent metal festivals in Europe have come together to create the European Metal Festival Alliance!
From August 7th to 9th, you can catch livestreams from Sabaton, Rotting Christ, Butcher Babies and many other metal greats. You can find online tickets for the streams here.
The participating festivals include:
• Alcatraz, Belgium
• Art Mania, Romania
• Bloodstock, United Kingdom
• Brutal Assault, Czechia
• Dynamo Metalfest, the Netherlands
• Into The Grave, the Netherlands
• Leyendas DEL Rock, Spain
• Metal Days, Slovenia
• Midgardsblot, Norway
• Motocultor, France
• Party.San, Germany
• Resurrection, Spain
• Summer Breeze, Germany
We've organised a huge prize exclusively for you as a Backstage Club member: We're giving away a total of 3 pairs of tickets for an EMFA festival of your choice. Just choose which of the 13 festivals you would like to go to in summer 2021 with a companion of your choice.
Take the chance and answer our competition question in the Backstage Club. With a little luck you might get your hands on your first ticket for the 2021 festival season!
Fingers crossed!
Your Backstage Club Crew
* The minimum age for valid participation is 18. The prize does not include the cost of transfer, accommodation or meals!
** We will send all participants an email to the email address provided to notify them of the outcome of the competition. If you are not one of the lucky winners, we will send you a small thank you for participating.
The winners
Florian K., Germany

Francesca S., Great Britain

Céline R., France
Our recommendation for you