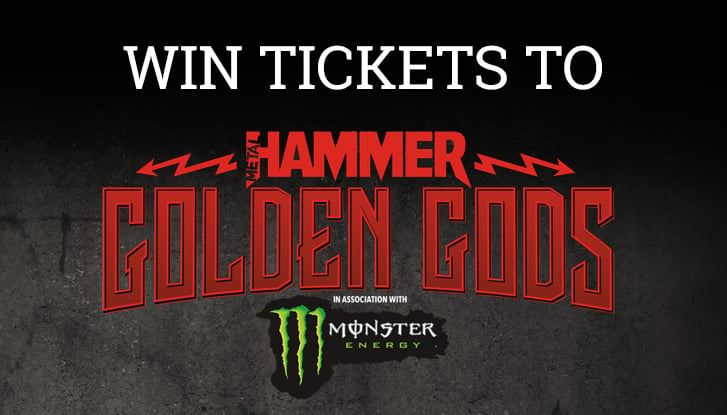 Win Tickets To The Hammer Golden Gods Awards
Closing date: 10.06.2018
EMP has tickets to give away for Metal Hammer's 16th Annual Golden Gods on Monday 11th June 2018 at the O2 Indigo!
Fancy winning a pair for you and a friend? Trust us, with a live performance from bands including Parkway Drive, Baroness and Meshuggach, this is an event you don't want to miss! For chance to win, all you have to do is answer the question on the right.

Can't be there? We'll be sharing live updates on our social media (@EMPUKOfficial) so it will feel like you are!
Please note these are standing tickets.
Terms & Conditions
The general Terms and Conditions relating to admission, which by attending the Metal Hammer Golden Gods Awards 2018 (the "Event") at Indigo at O2 arena (the "Venue") you agree to, are as follows:
• Please arrive in good time as admission is on a first come, first served basis. Unfortunately not everyone who receives these tickers uses them, so, to achieve a full house, we had to distribute more tickets than capacity available. We are sorry but this ticker does not guarantee admission.
• This ticker is issues subject to the rules and regulations of the Venue which arte available at www.theo2.co.uk/legal/terms-and-conditions-legal (the "ticket terms"). The venue reserves the right to eject any person who fails to comply with the Ticket Terms.
• You must produce a valid Ticket to gain entry to the Venue and upon request for inspection at any time. Failure to produce your Ticket when requested may result in you being ejected from the venue.
• This event is for persons of 16 years and over only and photographic I.D. may be required. • Removing the ticket sub invalidates the Ticket.
• Collection to be determined between EMP staff crew and winner once the winner has been chosen.
• Winners will be contacted via phone call followed by email on Monday 11th June by 12pm.
• Selling a ticket for profit or commercial gain or use for competitions, promotions or hospitality packages without the express permission of Future Publishing will void the Ticket. Failure to adhere to the Ticket Terms may result in the ticket holder being refused entry to or removed from the Venue.
• The Venue and Future Publishing are not liable for any tickets that are lost or stolen. Standing tickets cannot be duplicated under any circumstances
• In order to facilitate the security, safety and comfort of all patrons, the Venue reserves the right at its reasonable discretion to refuse admission.
• Customers may be ejected from the Venue if, in the reasonable opinion of the Venue, the ticket holder is a risk to the safety of any patron, may affect the enjoyment of other patrons and/or the running of the event. Examples include but are not limited to being (or appearing to be): drunk or incapable or intoxicated, under age (where relevant), abusive, threatening, heaving anti-socially carrying offensive weapons or illegal substances, declining to be searched or in breach of the Ticket Terms.
• To ensure safety we will conduct security searches of persons, clothing, bags and all other items on entry and exit and reserve the right to confiscate items which may cause danger or disruption to the event or other patrons or are in breach of the Ticket Terms.
• No food or drink is permitted to be brought into the Venue. A variety of food and beverages will be available for purchase inside the Venue.
• There is no re-admission once you have left the Venue.
• CCTV and film cameras may be present at the Venue. By entering the Venue you consent to being filmed as a member of the audience and to the use of such footage for commercial purposes without payment of any kind and you hereby waive any moral right in respect thereof.
• The use of unauthorised cameras, video and sound recording equipment is prohibited and such items may be confiscated.
• In seated areas other member of the audience may stand up during the event.
• Crowd surfing and moshing are strictly prohibited. • Animals, with the exception of assistance dogs, are not permitted in the venue.
• Customers are requested to address any special access requirements in advance of their visit by contacting office@osullivan.works
• If you experience any problems please contact a steward or duty manager immediately as is may not be possible to resolve issues after the event.
• In case of emergency please follow instructions and directions from stewards, staff and/or other officials.
• It is the responsibility of the ticket holder to ascertain the date and time of any rearranged Event.
• When purchasing alcohol if you appear to be under the age of 25 you may be asked for proof of age.
• The Venue is a non-smoking Venue. • All events are subject to licence.
• Loud Music can damage hearing.
• Admission to the Venue and the event is at your own risk. Neither the Venue nor Future Publishing will be held liable for any loss, cost, expense, injury or damage sustained at the Venue and/or the Event except in the respect of death or personal injury.
• Future publishing shall not be liable for consequential losses as a result of the cancellation or rescheduling of the Event, including, but not limited to, accommodation costs or travel expenses. Future Publishing will use reasonable endeavours to notify you of any cancellation or rescheduling but Future Publishing does not guarantee that you will be informed of such cancellation or rescheduling before the date of the Event and it is your responsibility to ascertain whether the Event has been cancelled or rescheduled.
Our recommendation for you