Follow The Leader – (Korn Album) – EMP Blog
Get your hands on the re-released edition of 'Follow The Leader' on CD or 180 g vinyl! The cult Korn album is the third album by the former nu metal pioneers and features the epitome of a rap-metal duet: 'All In The Family'.
Follow the Leader is recognised by the band members as being their most commercially successful album, and it is an album that helped both the band and the Nu Metal genre breakthrough into mainstream music.
Follow the Leader: CD album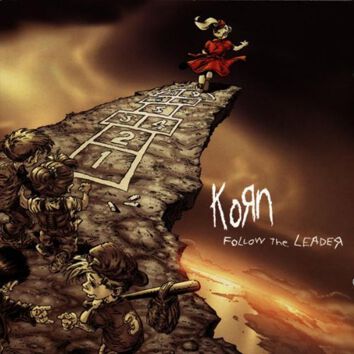 Tracklist
1. It's On!
2. Freak On A Leash
3. Got The Life
4. Dead Bodies Everywhere
5. Children Of The Korn
6. B.B.K.
7. Pretty
8. All In The Family
9. Reclaim My Place
10. Justin
11. Seed
12. Cameltosis
13. My Gift To You
Follow The Leader: Vinyl LP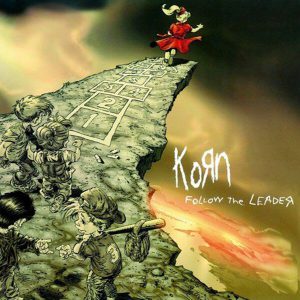 Tracklist

LP 1

1. It's On!

2. Freak On a Leash

3. Got the Life

4. Dead Bodies Everywhere

5. Children of the Korn

6. B.B.K.

7. Pretty

LP 2

1. All In the Family

2. Reclaim My Place

3. Justin

4. Seed

5. Cameltosis

6. My Gift to You
Quick facts about 'Follow The Leader'
Album release date: 18th August 1998
Genre: Nu Metal
Album length: 70 minutes 8 seconds
Produced by: Steve Thompson and Toby Wright (Immortal/Epic)
Copies sold to date: 14 million
Tour: Family Values Tour
Guest vocalists: Ice Cube (Children of the Korn), Tre Hardson (Cameltosis) and Fred Durst (All in the Family)
Album artwork: Todd McFarlane, Greg Capullo, Brian Haberlin (colouring)
Awards:
1999 MTV Video Music Awards: Best Rock Video (Freak on a Leash)
1999 MTV Video Music Awards: Best Editing (Freak on a Leash)
2000 Grammy Awards: Best Short Form Music Video (Freak on a leash)
Album charts:
| | | |
| --- | --- | --- |
| Chart | Location | Top Position |
| AR1A | Australia | 1 |
| CANOE | Canada | 1 |
| RIANZ | New Zealand | 1 |
| Billboard 200 | US | 1 |
| Suomen virallinen lista | Finland | 4 |
| SNEP | France | 5 |
| VG-lista | Norway | 5 |
| OCC | UK | 5 |
| O3 Austria Top 40 | Austria | 7 |
| MegaCharts | Netherlands | 7 |
| Media Control AG | Germany | 12 |
| Ultratop Flanders | Belgium | 13 |
| Sverigetopplistan | Sweden | 24 |
| Ultratop Wallonia | Belgium | 30 |
Categories: special Rebecca Smith
Share item: