Stocking Fillers For Mums
Legend has it that the Christmas stocking tradition was started by St Nicholas who wanted to find a way to help 3 poor women without their father knowing. One dark night, he decided to throw bags of gold through an open window where the women slept and one of the bags landed in a stocking hanging by the fire. The delighted women found the gold and since then children and adults alike have hung stockings out, eagerly awaiting presents from St Nicholas.
At a cost of over £45 per gram, filling a Christmas stocking with gold is too expensive for most people. But don't worry, with hundreds of little gifts for marvellous mums, EMP has got you covered. Keepsakes, funny gifts, chocolates, clothing and kitchen accessories all make great small gifts and at EMP you will find hundreds of exclusive and unique products that aren't available anywhere else. Give some Jingle to Christmas this year with our hand-picked selection of stocking fillers that are guaranteed to deliver a little magic to your mums Christmas morning.
1. Blac
k Premium Scarf (£16.99)
Luxurious and dazzling, a beautiful scarf serves as a tactile reminder of you every time it's worn. With an all-over print, this 95% cotton scarf is a wearable piece of art that's soft to the touch, lightweight and comfortable. A stylish piece that will be a hit on Christmas morning.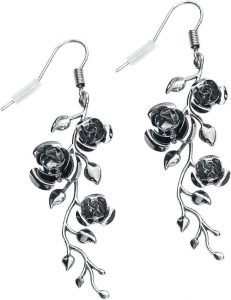 2. Gothicana Rose Earrings (£7.99)
Not suitable for sensitive ears, however if you are shopping on a budget then these rose Gothicana earrings offer the perfect combination of robust, elegant style and affordable pricing. Made from silver-plated brass these strong, yet beautifully ornate earrings are the perfect wallet saving way to show a little extra love on Christmas morning.
3. Blood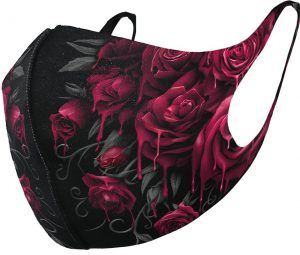 Rose Face Mask (£9.99)
Face masks could be the number one stocking filler for Christmas in 2020 and EMP has got a tonne of cool masks to help keep you and your loved ones safe. Unprecedented times call for unprecedented gift-giving and nothing shows you care as much as a stylish face mask. Tasteful and appealing this Blood Rose mask is the perfect small gift for Mums and Aunts this year.
4. Banned Alter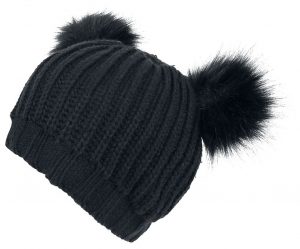 native Sukie Hat (£13.99)
Super stylish and super cosy, this Sukie Hat from Banned Alternative will make a great addition to any cold-weather wardrobe.  The oversized fit and cute pom poms create a fun yet stylish look that's perfect for cool mums.
5. Queen Checklist Mug (£7.99)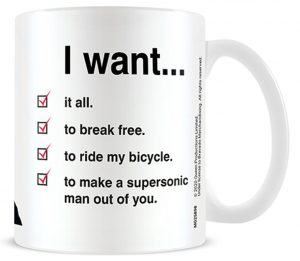 Even cold, half-drunk tea will look good in this mug! Brighten the home or office of a hard-working mum with this practical and funny gift. Universally appealing, it's not just Queen fans that will enjoy the song references printed on the side.
6. Yoga Cats Warrior Cup (£9.99)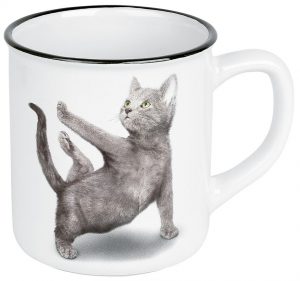 'Please grant me coffee to change the things I can and yoga to accept the things I cannot'. With nearly 500 cups and mugs in the EMP online store, we thought we'd highlight another customer favourite that's perfect for Yoga Mums and Spiritual Warriors.  Tempt your mum into joining Yoga Cat in a warrior pose with her morning coffee!
7. Bandana Print Toilet Bag (£16.99)
This black and white toilet bag from Urban Classics is a great small gift for cool mums at Christmas. A thoughtful gift that can be used for toiletries or cosmetics, it offers a practical way to show that you care. Made from water-resistant material this eye-catching wash bag is a practical travelling companion for Mums on the move!
Tote bags are great all-round bags that can be used over and over again. For environmentally-conscious shoppers, they provide a re-usable, plastic-free alternative for carrying shopping and groceries. They also make stylish gym bags or offer an alternative way to carry a laptop. Printed on both sides and measuring a generous 40 x 38  x 10 cm, this attractive fabric bag from Spiral is guaranteed to be a hit with mums.
9. Cheshire Cat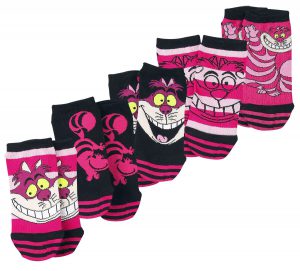 Socks (£13.99)
Socks are now a firm favourite when it comes to stocking fillers and your mum will grin as much as the Cheshire Cat with cosy cotton elasticated socks from the world of Disney.  The grinning cat is one of the most popular figures from 'Alice in Wonderland' and it was only a matter of time before he got his own collection. This 5 pack of trainer socks comes in the colour pink/black, and in UK sizes 2-5 or 6-8.
10. Disney Vintage Poster 2021 Wall Calendar (£9.99)
This enchanting calendar from Disney is a practical gift that the whole family can enjoy. Each month showcases one of 12 vintage posters from Disney films throughout the years, whilst also keeping track of dentist appointments and after school activities. Measuring 30.5 x 30.5 cm, this deluxe Disney wall calendar might be too big for a traditional Christmas stocking – but it's an ideal stocking filler for busy mums.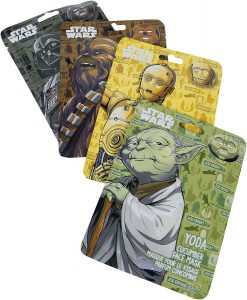 11. Star Wars Cucumber Face Masks (£18.99)
You must unlearn what you have learned. Watch your mums face light up this Christmas when she opens a pack of 4 Star Wars Themed cucumber face masks. A totally original, enjoyable treat for relaxing at home. Fresh-faced she will be. Amazing she will feel.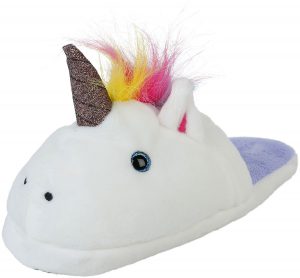 Who hasn't dreamed of putting their feet inside a unicorn? .. Apparently nobody! But thanks to these awesome slippers, your mum can be one of the first people to have this neglected wish fulfilled! She'll not only look cool but these fun, cuddly slippers will also keep her feet warm all day. Complete with glittery horn and eyecatching rainbow mane, these shoes fit sizes 4-7.
Hundreds of stocking stuffers in one place!

At EMP you will find thousands of unique toys, gifts and clothing items that aren't available on the high street, including a range of reduced lines. The EMP Sale section is the perfect place to find great stocking fillers that will impress without breaking the bank. If you haven't found the perfect stocking filler yet then check out the EMP sale next. Discover scarves, purses, backpacks, mugs, earrings, t-shirts and more – and pay up to 50% less. 
Categories: Special Rebecca Smith
Share item: