Our top 8 'Mickey and Minnie mouse' gift ideas for your favourite Disney fan this Valentines day!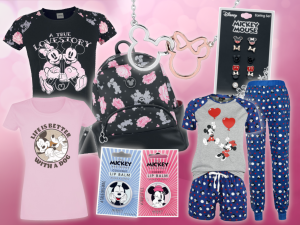 Join us at EMP this Valentine's Day by celebrating the best couple that Walt Disney & Co. have ever produced, namely Mickey and Minnie Mouse! We dare you to name a better couple in the rich history of Disney than these two cuties! Ok… Sure, they've had their ups and downs throughout the years, but in the end, they always come back to each other, hoping to live happily ever after! So join us this Valentine's, as we celebrate this great couple and all of their best merch. Show your appreciation with us! Here are 8 of the best gift ideas for Valentine lovers, and Mickey and Minnie fans alike! So let's get started…
1. For the all-out romantic!
Show her how much she means to you this February, by giving her a true testament to your love, as tried and tested throughout Mickey and Minnie's long relationship. This lovely romantic T-Shirt is the perfect Valentines gift for any Disney lover!
          2. For those who love couples pyjama's!
There's always been something special about matching outfits for couples, but for the less exhibitionistic ones, you can enjoy these couples pyjamas from the private comfort of your home and lounge about on the couch on a lazy Sunday. You can even make a head start on Valentines this year, it falls on a Monday! Why not pick up a pair of matching PJ's with the love of your life and enjoy a weekend Disney Movie Marathon? Just don't forget to get changed for work on the Monday!
3. Accessorize yourself…
What better homage to the Disney couple or to your special someone than a piece of jewellery from our bespoke Disney by Couture Kingdom range. There's everything from classic studs to romantic necklaces and bracelets! Why not woo your significant other with something eye-catching and sparkly!
            4. For the Winter Chapstick lips..
No one likes a dry set of chapped lips… Yes, it works both ways, so make sure you keep those babies ready and moisturized! Plus, you can't go wrong with a hint of cherry and coconut…
5. For the more subtle 'Mickey and Minnie' fan 
We get it… Not everyone wants to show off their infinite love for Disney, all the time and have something clash with their style. So, if you want to give something special with a subtler hint towards Disney, then check out this lovely mini-backpack which is both cute and stylish! The floral design is fitting to this romantic day, with that subtle dash of Disney that every fan needs! 
  6. For the LOVE of dogs!
No Valentines day celebration would be quite complete if we didn't show a bit of love to our four legged friends! We've got you covered with this super cool Disney 'Life Is Better With A Dog' T-shirt, to helps show that hanging with your dog. really is a special kind of love to be celebrated! And the T-Shirt doesn't lie, life IS better with a dog!
 7. For Fantasia Fans!
NOSTAGLIA ALERT! There was a time when Mickey was alone and pouring water absolutely everywhere, but the spectacle of the this animation and the music has made Fantasia an experience we just keep coming back to, so maybe it wouldn't be remiss to celebrate those lovely memories with this lovely vinyl figure.. And don't forget, there's a Disney Funko Pop! for any Disney Fan!
If ever in doubt about what that special someone would like for Valentines Day, if they are a fan of EMP, just go have a look at the web shop! We're sure you'll find something to enjoy!
Categories: special Mathilde fashion Movies
Tags: disney Disney Characters mickey mouse Micky and Minnie Mouse Valentines | permalink
Share item: