Shinedown X EMP interview!
With just under two weeks to go until Shinedown's seventh album 'Planet Zero' drops, here at EMP we were lucky enough to get a chance to speak with the legendary Brent Smith to discuss the upcoming album, his top 3 favourite movies and whether or not he'd prefer to be part of an Alien invasion or a Zombie apocalypse!
Elena from EMP got the chance to sit with Brent and discuss the band's experiences recording the new album, his love for the Muppets and his reasons for wanting to be a Jedi rather than a Sith! We even got an EMP exclusive announcement from the Shinedown front-man, here's what he had to say:
We asked Brent Smith to tell us a bit about the concept behind the new record:
'It's definitely ferocious.'
'Once again we self-produced this album, like 'Attention, Attention' our bass player (Eric Bass) engineered, mixed, produced that whole album, as well as Planet Zero.' Brent described the new record as 'More fierce and upfront' stating 'The guitars are very big and present, there's a lot of impact.'
'We listen to the fan-base, we're still Shinedown as we never put ourselves in a box and our audience allows us to be ourselves! Our past records have been situational, because they're about events that have happened over time. Planet Zero is in real time, because of what everyone has gone through, what we all went through together over the past few years. This record talks more about What's real? What's not? And what the future will bring for society and humankind!'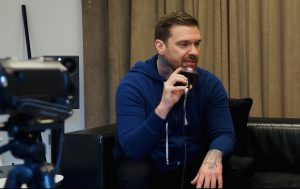 Brent Smith shared his favourite memory from recording the album:
Brent talked about the coolest day for the band while recording a track off the album, 'Hope'. 'We were not having a great time getting drum tones, Eric suggested we changed the environment and took the drums outside.. We built a studio in 18 months during pandemic, so he said 'let's record the drums outside' We had been in a bit of a rut and it changed the whole environment, it wasn't traditional but he was like, 'Why not'… that was a cool moment.'
The Shinedown frontman also told us which song's he's most looking forward to playing live:
Smith stating straight off 'I've got to be rehearsed, it's not for the faint of heart. It was interesting when we rehearsed Planet Zero the song for the first time, it's always good when you're nervous because it lets you know you're alive. As soon as we 'out of the gate' played it, it felt like we had had it in the set for years but I'm most looking forward to a track called 'Daylight', also the opening track 'No sleep tonight', 'Hope' is another that has a massive crescendo, it's another level of musicianship. The big question in the studio is always 'Can we do it live'… So we're gunna find out.'

Planet Zero fan-reaction: 
Brent told us the single received a 'Resounding 'Thank god'.' 'We're very eclectic but we're also rock and roll to the bone and our audience allows us to be ourselves. We've always said 'Shinedown has one boss, and it just happens to be everyone in the audience.'  So we asked them! 'We want you to hit us hard' They wanted to be uplifted, they want to feel confident, so we wanted to light them up due to all we've been through the last few years. (The single) is melodic, the riff was laboured over… It was written by Eric, he really wanted to make sure he refined it, he had a lot of different variations of it before settling on what was right, and we focussed on 'less is more', a bit of sophistication. It's an extension of how you feel, that riff is very primal. We studied it very hard and we take what we do very seriously because we want to make our audience happy.'
We went on to ask Brent about the upcoming UK festival dates:
'We're setting up headline tour in UK and Europe in Nov/Dec, so we're currently focussing on that and getting it carved out, so many people behind the scenes in this industry that are the lifeblood of what we do. Specifically in Europe and UK, music is like air! We have such an appreciation for the audiences over here and are very excited to be back!
We were excited to hear about the yet unannounced UK tour – a nice EMP Exclusive, to which Brent replied:
'They're probably like 'Brent you're not suppose to talk about that' and I'm like 'no no no we'll be back' but.. yeah it is exclusive, 100%.'
& Brent told us who he is most excited to see live:
'Anytime we can hang out with Maiden is a good time. I've never seen the Deftones! It's us, then them and then Maiden at Download, I'm super excited about that. I am such a huge Deftones fan so that day we'll be able to actually watch them. I'm just stoked that I get to watch the Deftones!'
On Brent Smith's headphones:
'I don't think I've stopped listening to Spiritbox for the last two years, so finally when Eternal Blue came out it was a big deal because I am such a fan of that band, so that's kind of been on my player religiously.'
Go-to Karaoke:
'I'm trying to think, I don't know, 'Sweet Caroline?' [laughs] I don't think I've ever done Karaoke…. Back in the day when I use to drink heavy, I got up to do karaoke, there was maybe 4/5 people In the bar and I sang our version of 'Simple Man' and I remember the bar tender being like 'YOU SUCK'… [laughs]… Don't do drugs!'
Top 3 movies:
'My favourite movie is the kind of makes people really sad, it's Elisabeth Shue & Nicolas Cage, he actually won a nomination for best actor for it. It's called 'Leaving Las Vegas'. It's probably my favourite movie of all time, there's so much depth to it. It's very sad but that's not why I like it, I like it because of the performance between them is very dramatic and very real. The second would have to be probably the original Muppets movie and my third would have to be The Never-Ending story. So I have this really dark number one and then I have a thing for puppets, so there we go [laughs]
Zombie apocalypse or alien invasion:
'I'd rather do the alien invasion because I feel like we have a good handle on what zombies are gunna do, aliens could be way more exciting, the zombie thing is a little tired now, I feel like we've done it enough that we kinda get it, zombies are very needy… Aliens are gunna make you work for it.'
Would you prefer to be a Jedi or a Sith?
'I'd refer to be Jedi, I like the colour green, I need that lightsabre. The Darkside's not calling for me, but I respect the Darkside, most of the time they were the most unloved, so if you can save them before they turn, there's always that hope.'
If you could be a Super-hero for a day who would you be and what would you do:
'I wouldn't necessarily want to be a superhero, but if I had an opportunity to manage them all for a day, if I could conduct it. I don't have to be a superhero I'd just tell them what to do for a day.'
…What about a super-villian?
'Super villains are so complicated, and I'm not that complicated, I just don't like being mean! Some people would say 'he's nice but he's intense', but it depends on the day of the week. I hold a lot of empathy in my heart because I still believe in people'
Brent left us with a message for his fans: 
'Thanks for being patient, thanks for being here for us since day one, we're coming back to see you very soon. It's never goodbye, just until next time!'
You can watch the full interview below! Planet Zero drops July 1st! You can pre-order the new album here: emp.me/1AjN
Categories: special Charlotte EMP music
Tags: Brent Smith Deftones Download Films iron maiden Shinedown Spiritbox | permalink
Share item: